Why Choose Go Light?
Feedback from one of our customers: "Neil, this is why I use you.  For the second time you have made it up to me and made sure to keep me happy."
Go Light Outdoors is your source for Quality Lightweight Whitewater Equipment at prices less than retail. We specialize in Catarafts, but offer a full line of Rafts, Catarafts, Inflatable Kayaks, Paddle Cats, SUPs, Sleeping Pads, and Waterproof Bags from Jack's Plastic Welding as well as frames by Whitewater Machine Works and our own custom steel frames. We also can order standard and custom mesh bags from Summit and Stitches-N-Stuff and oars by Cataract. Neil can help you put together a boat/frame package that meets your needs. Contact Neil to order your new boat, frame, drybags, or other whitewater gear!
Take Your Own Boat When You Travel!
New! "International Travel" cataraft packages featuring lightweight boats from Jack's Plastic Welding. These versatile cataraft/frame/oar packages are light and compact and we have had no problems taking them as baggage on international flights from the USA. One bag with the boat, seat, and oar blades and another for the frame and oar shafts. Once at your destination, just assemble and enjoy the water. For more information on our "International Travel" packages, click here to go to the International Travel Page.


Jack's Plastic Welding Catarafts, Rafts, Waterproof Bags and Pads
The possibilities are endless for inflatable boat design.  JPW has narrowed it down to a few categories.  At Go Light Outdoors, we concentrate on the lightweight cats, but can order almost anything they make, including the frameless Culebra, expedition cats, self-bailing rafts and Stand Up Paddle (SUP) Boards.
Lightweight Catarafts
"Flyer" and "Cutthroat" Catarafts
Available in lengths from 10-foot to 15-foot, these cats with 16 or 19-inch diameter tubes are so versatile and fun. Set them up with one of our lightweight rowing frames and you can have a complete rowing package that can be carried by one person! With one of Jack's "Cutthroat" frames and the option of 16-inch tubes, you have a customizable set-up ideal for many of the west's smaller streams and rivers.
Fat Pack Cat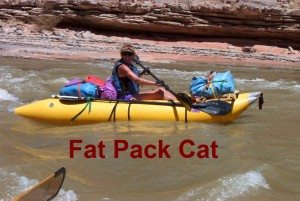 The increased tube diameter (16 inches) and a uniquely welded tube design adds stability, control, hull speed, and more gear capacity to the original pack cat Idea. Tubes, frame, straps and a bag to carry bag are included in the standard fat cat price. The Boat and frame itself weighs only 40 lbs, and will fit into a space that is 12 X 16 X 24 inches. .
"Culebra" Frameless Cataraft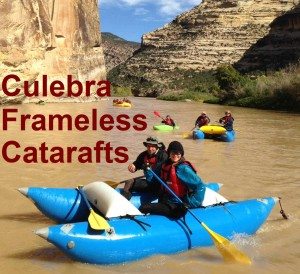 The Culebra was the first frameless cataraft to raise the cross tubes and the floor to make this boat a true performance giant. True it is small, but it is Fierce. With 19 inch diameter main tubes,  4 chambers and 2 main and 2 cross tubes, the Culebra weighs only 52 lbs, 28 lbs less than an AIRE Sabretooth. You can easily disassemble and re-assemble the Culebra.  This way you can fly your boat with you to worldwide destinations.
Expedition Catarafts, Rafts, and SUP Boards
Available colors: Light Blue, Yellow, Red, Grey, and Green, and maybe others
"Daddy" Catarafts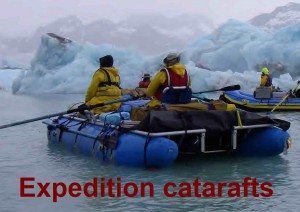 Daddy cats are still one of the most popular catarafts in the southwest. It is because of their versatility. They can run tight little streams and rapids like the Upper Animas, and Quartzite on the salt river with enough gear for a 6 day trip.
Self-Bailing Rafts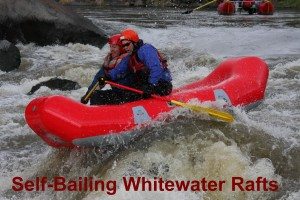 When we start talking about raft designs, customers will often say… We did not know you made self bailing rafts. We have been working on self bailing raft concepts since 1990. that is 25 years out of 33. We have seen a lot, and we have listened to a lot of customers. We pride ourselves on customer feed back.
"ISUP" Stand-up Paddle Board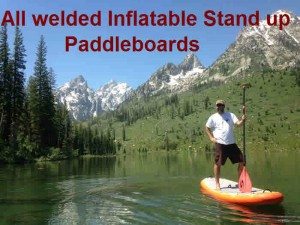 This board is "made in the USA" using an all welded construction in the air holding chamber for no glue failures.  The 32 oz PVC coated Polyester fabric and drop stitch both have the best coating adhesion and air retention of any fabric we have ever used.  We use Leafield valves, the standard for the rafting industry, and NRS removable fins, to make the system more transportable. The total weight is 25 lbs.
Sleeping Pads and Waterproof Bags
Paco Pads for Sleeping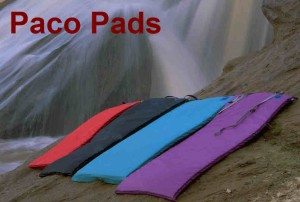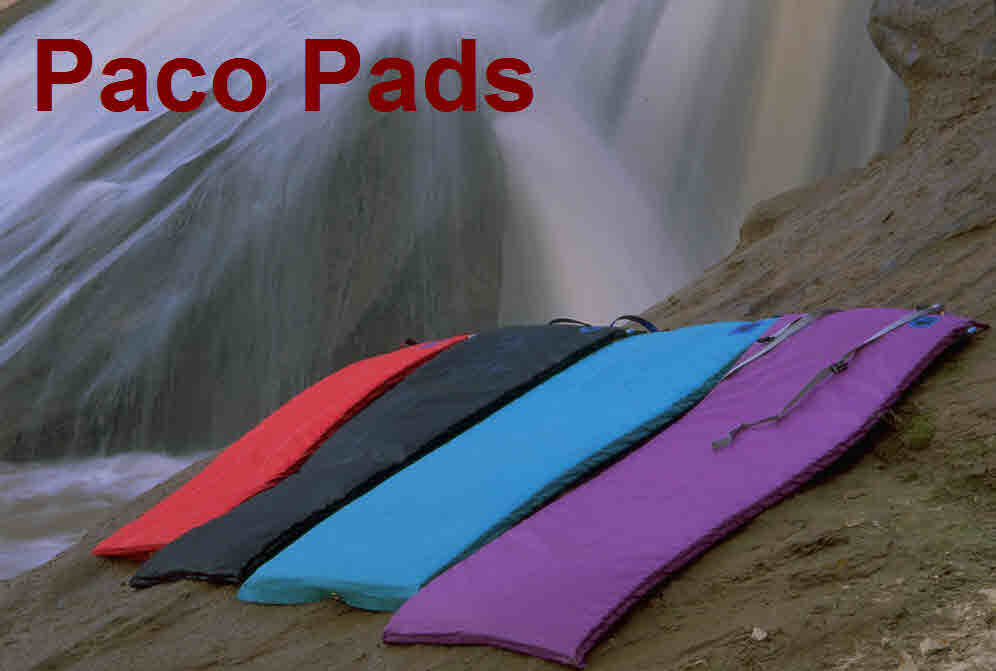 Sure Paco Pads are a little more expensive that others, but they have the best track record of any pad on the market. The customers who use them put them through every extreme, from arctic cold, to searing desert heat. Add up longevity toughness and comfort, and it equals value. It is a hard combination to beat. made in the USA, since 1983!
Waterproof Bags
We would like to think that we have a majority of the western river outfitters using our bags. Mainly because of the longevity they have shown. Companies like Mokie Mac, Holiday River Exp, Griffith Exp, in Utah. Western River Exp, Wilderness River Expeditions, Diamond River Expeditions, Azra, and Canyon Explorations in the Grand Canyon, many Middle Fork Companies in Idaho, Custom River tours on the Selway, Arta, and Oars/ Dories in Northern Idaho, and the Snake. The list goes on.

 High Performance Cataraft and Raft Frames
At Go Light Outdoors, we believe that Whitewater Machine Works makes some of the best cat and raft frames on the water as well as some innovative frame parts to improve your NRS frame. The frame designs are lightweight, innovative, and strong. Features such as adjustable oar towers (that can be laid down for stacking), full length scout rails, and an adjustable seat bar/yoke, all in a frame that fully breaks down for travel and transport make them hard to beat. The light weight of the cat day frames (around 35 pounds) is also a plus. Have an AIRE Puma or Hyside Mini-me that you want to row? Check out this super light frame for small rafts!Although there are "standard" sizes, each frame is custom built one at a time and the adjustable fittings make custom sizing on lengths easy. Between Whitewater Machine Works and Go light Outdoors, we have years of combined experience in designing, building, and testing frames. Neil loves talking frames with customers to ensure you get the exact frame to meet your specific needs, but eventually he'll turn you over to Guy to complete your dream frame. And you can always contact Guy directly.
Neil also builds frames and cargo modules out of steel tubing and can fabricate a custom one-piece frame for you. It will be somewhat heavier though, and not as strong.
Books from Go Light Outdoors
Floater's Guide to the Rivers of the Yaqui Watershed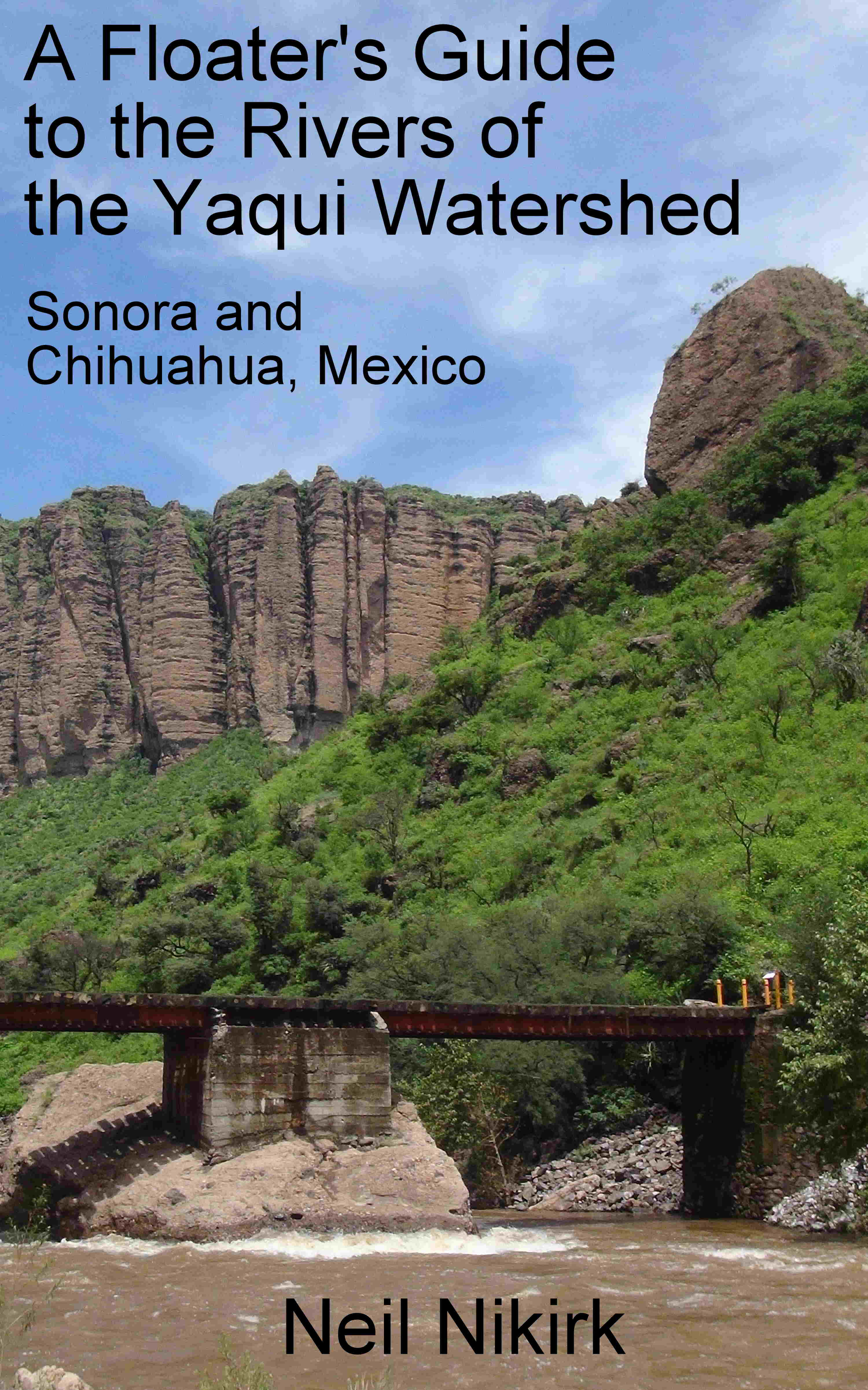 This book is an attempt to consolidate what little information there is on boating the rivers of the Yaqui drainage in northern Mexico so that other adventurous boaters can experience the thrill of exploration but still have some idea of what they are getting into. It includes photos, maps, river descriptions, a mile by mile guide, and adventure stories from people who have been there.
Click on the cover image or here to order and download
Books from No Coolers
The No Coolers Website is your source for all things Food Related. Food planning and preparation is the biggest challenge for any group organizing an extended duration trip. Arranging food for a group can be extremely time consuming. It requires menu planning, food purchasing, sorting, and repackaging. This can entail hours and hours of preparation before the trip. There is an easy solution! Purchase one of Lacey's affordable books and learn how to run your trip like a PRO. Save time and money! Both of her current books are available for order below or at the No Coolers website.
Camp Without Coolers or Stoves (E-book or Print)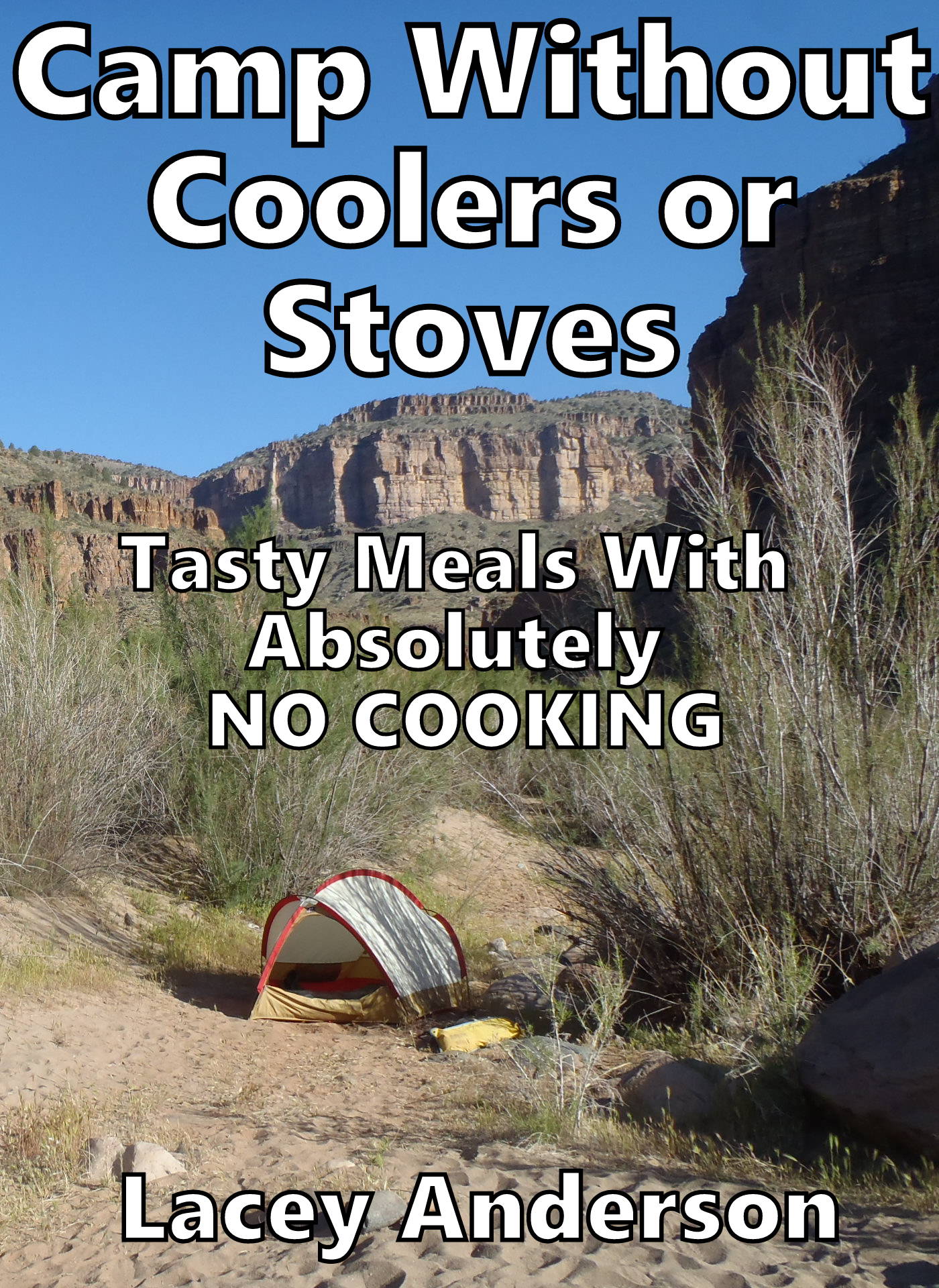 Camp cooking expert Lacey Anderson, author of Camp Cooking WITHOUT Coolers II, presents her latest book on camp cooking – without the cooking! Packed with over 40 recipes, Camp Without Coolers or Stoves contains a Five-day meal plan for breakfast, lunch, appetizers, dinner, and dessert with Absolutely No Cooking. With this collection of recipes, you too can eat well in camp without using a stove, fuel, charcoal, or other heat source! You don't need a Dutch oven, frying pan or cooking pots; you don't even have to boil water. Because no fuels are used for cooking, it is Eco-Friendly too.
Click on the cover image or here to order and download
Camp Cooking WITHOUT Coolers II (Second Printing)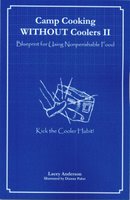 Camp Cooking WITHOUT Coolers II is much more than an outdoor cookbook. Inside, you will find a 7-day meal plan including breakfast, lunch, appetizer, dinner, and dessert for each day. Other subjects covered are camp kitchen organization and packing tips. You will also find a camp kitchen equipment list. Readers will also learn the latest techniques to keep the environment and themselves healthy while enjoying the great outdoors. The book also contains exciting whitewater river tales to entertain readers.
Click on the cover image or here to order and download
We can definitely save you some money on Cataract Oars. Contact us today for special pricing on all Cataract products!
SGG
Designed to flex like wood and rebound like carbon, the SGG transfers muscle power into stroke power, providing the most definitive oar responsiveness available. It's little wonder then that this oar is our most popular.


SGX
The super-long, extra-stiff SGX is the most ideal whitewater oar for those tougher conditions. With a shaft that's 33% stiffer than our SGG model, the SGX is designed to perform best in larger, heavier boats and to aid in navigating hazardous obstacles.

X-Wound
New in 2013 – The Cataract X-Wound oar shaft. The X-Wound oar shaft is very durable and 1/2 lb lighter than the SGG shaft. It has an all carbon layer on the outside, therefore it is only available in black. It has the same flex as the SGG shaft and is the ultimate upgrade for those looking to reduce fatigue on those long stretches of river.
Please Share With Your Friends