Revisiting Ecuador (2017-2018) Part One
Back again in Ecuador, this time with friends Greta Ossman and Tim Dean in tow and others coming down in a few days. So what do we do? Contact my amigo Diego to pick us up at the airport and head to our favorite hostel in Tena – Zumag Sisa. What the hostel lacks in amenities, it more than makes up for in hospitality, and great internet! The hosts Pablo and Marcia are the kindest, most generous people around and treat us like family. No wonder we keep coming back. The location is good too, walking distance to everything in Tena. Although Tena can be a bit noisy in the morning as everything gets rolling early.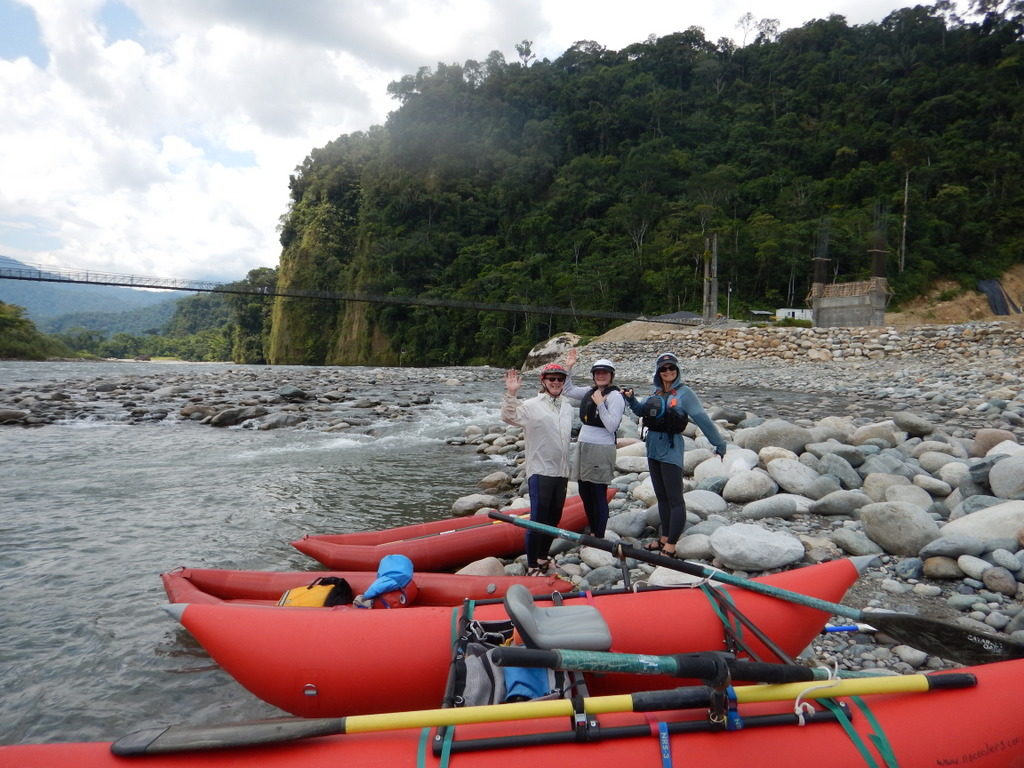 First up, get some inflatable kayaks for Tim and Greta. Luckily I have a few contacts down here and one of the local kayakers has a couple of old Wing inflatables they could rent for $15/day. What a sweet deal! Having acquired the kayaks, we headed out the next day to the local Class III run on the Jatanyacu (upper Napo). This is a wide open Class III run at lower water. It gets pretty big at high water with some big waves and holes. It still has some of these features at low water as Greta found out in the rapid we now refer to as "duckie carnage." The swim wasn't as bad as the walk down the bank over the slippery boulders. The IK did eventually come out of the hole and was retrieved downstream.
The next day, the water was still low around Tena, so we headed just out of town to Archidona to run the Middle Misahualli. We settled on a put-in at the big blue arch (walking) bridge at Sinchisacha for a nice Class II float down to Dos Rios, just on the outskirts of Tena. This is a very enjoyable float through varying landscapes from jungle to plantations, Kichwa villages and then the "suburbs" of Tena where they are doing lots of gravel mining for roads and building materials. I wish the municipality would curb this practice on the local rivers.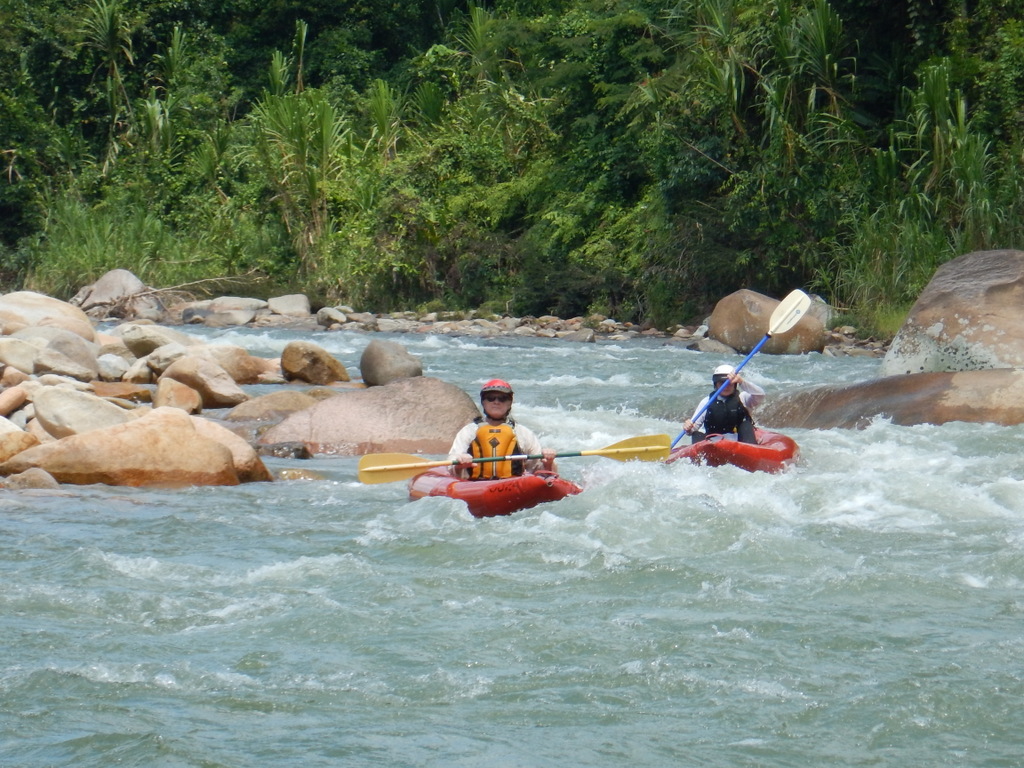 After a good night's rest at Zumag Sisa, it was day off the rivers with a side trip to Puerto Misahualli to see the monkeys and where the Rio Misahualli joins the Rio Napo. We (Tim, Greta, and I) were going to take a bus, but we were about an hour early for the local bus so took a truck taxi instead ($8) that arrived at the bus station dropping off passengers. It seemed reasonable at the time. We wandered around the town and the central park and were told that the monkeys were at the beach so headed down to the river.
Sure enough the monkeys were hanging out in the trees beside the beach. Others were feeding them and the monkeys would steal almost anything loose, probably thinking it was food. Speaking of food, we were getting hungry so it back to a restaurant facing the park for almuerzo (lunch). We opted out of the conchocuro (grubs on a stick) that are popular with the locals.
The next day, we said goodbye to Tim and Greta as they continued their journey south to Guayaquil and on to the Galapagos for a week over Christmas. Bon Voyage!
With a few days "off" before other friends arrived in Ecuador, Lacey and I made the most of it with back to back day runs on the lower Jondachi. The first day was with Gabriel from the Kayak Hostel Oso Perezoso in Archidona and Asaf Arad, a river boarder that travels the world with his board. A super fun day under mostly sunny skies and watching Asaf maneuver through the rapids was impressive. He definitely knows what he is doing on that Fluid Anvil of his. For pictures and more commentary see the Trip Report for Lower Jondachi 2018.
The second day, we played tag-along with our friends at River People Ecuador. Tim and his crew are top notch and highly recommended for anyone looking to run the rivers around Tena or have them provide other outdoor experiences. The water level wasn't much different than the day before, but running with a couple of paddle rafts (and safety kayak) is a bit different than running with a kayaker and river boarder – it takes a bit longer!
The next day was a work day at the Zumag Sisa using their fast (especially for Ecuador) internet. We started putting together an itinerary for possible beginner/intermediate cataraft or inflatable kayakers. I would love to have others come down and experience the rivers of Ecuador. The next day, our friend Cliff and new acquaintances Ted and Julie would arrive as our first group of friends with high hopes for hitting the rivers. I prepared a river plan to hopefully make the most of their short time in Ecuador and as always, hoped that the weather and water would cooperate.
It had rained the night before so the local rivers were up some. Diego invited me to paddle with him on the upper-upper Tena – a short section high up on a small river that is only runnable after a good rain brings the water level up. I was probably the first person to row this section in a cataraft – but that holds true for many of the rivers I have now run down here. There just aren't many rowers down here and even fewer catarafts. I'm hoping to change that! The upper-upper Tena was tiny, boulder-choked, and had a number of good drops. Definitely Class 4 creeking – great fun for an hour, but I'm not sure if I would do it again. Been there, done that! No pictures as I was just too busy. Stay tuned for Part 2!
Please Share With Your Friends