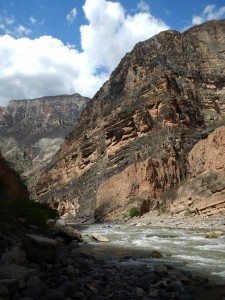 "Row Your Own"Rio Marañón

September 23 to October 7, 2017 (15D/14N)
Lacey Anderson of No Coolers invites you to join her on this remarkable journey into the upper Amazon River. Your travels will take you into one of the deepest river canyons in the world, with miles of red vertical walls rising directly from the riverbed. On this 15-day journey one of the many incredible spots is Cascada Muro Poso, a 400+ meter waterfall coming almost directly into the river. We also explore a pre-Incan pueblo complex, which includes spectacular overlooks. This trip offers swimming in an intriguing series of bedrock waterfall pools at Quebrada Aguablanca. The majority of camps are on expansive white sand beaches. As time allows we will also take excursions to verdant creeks, scenic grottos, and slot canyons.
The Marañón River is a major tributary of the Amazon River. This alone makes it one of the most important rivers in Peru and the world. The Marañón has been declared a biodiversity hotspot of global importance as it has one of the highest levels of endemism in the world. It is alarming to realize that the upper Amazon River, with its unique dry-forest, the flora and fauna and the people whom support themselves from its nutrient-rich waters are all under threat, due to mega-dam projects. When you join this trip, you'll be supporting the communities that we visit.
An additional benefit is that this expedition is fully supplied by professional Peruvian outfitters. We employ Peruvian guides and local Peruvian companies. Our expedition strives to maximize the positive effects of tourism on the host communities and minimize any negative effects; this includes ensuring that tourism does not divert resources away from Peruvians or the local communities.
A unique highlight of this expedition is the opportunity to interact with the remarkable inhabitants who live alongside the Maranon and maintain a lifestyle deeply connected to nature. We'll learn about their history, customs and lifestyle. We will also hear of their struggles with dam builders. This trip passes several of the 20 dam sites proposed for the Rio Marañón; Chadin Dos (a mega-dam) is in the latest planning stages. If the dams are built, the section of the river that the villages of Tupén and Mendán are located will likely be the first to be drowned by reservoirs.
WHAT'S INCLUDED
High quality rafting equipment and self-bailing rafts
Safety and professional river procedures
The best Peruvian class V raft guides

Internationally trained
Swift Water Rescue
Wilderness First Responder

Peruvian safety kayaker
Professional First aid kit
All arrangements in the field and on the river by professional river guides
2 hotel nights (double occupancy)
All meals during the expedition which are identified in the itinerary (B = Breakfast, L = Lunch, D = Dinner).
Welcome dinner in Huanchaco
Farewell dinner in Jaén
Ground transportation

Trujillo to Chagual (put-in)
Puerto Malleta (take-out) to Jaén

Personal river gear:

PFD
Helmet
A shared large dry bag (3.8 L) for every 2 customers

Personal camp gear:

A shared 3 / 4 man tent for every 2 customers
Sleeping pad
Camp chair
THE EXTRAS
Dedicated Peruvian gear raft to help carry some of the expedition equipment

so your raft load will be a bit lighter

Experienced English speaking facilitators and bi-lingual guides

who will facilitate your entire adventure

Your entire trip arranged!

no stress, just arrive and enjoy the ride!
everything from transport, to meals, to local knowledge is taken care of
a percentage of trip cost goes to support local communities

Know that you are important to the local riverside communities we visit

through your involvement in river conservation

We employ local

outfitters, guides, additional support services
in order to support the Peruvian tourism industry

Know that you are accompanied by a passionate and dedicated team of Peruvian guides

who are trained to international standards
who don't just paddle for work – they paddle for the love of it!
WHAT'S NOT INCLUDED
Sleeping bag
Insurance of any kind, including medical evacuation insurance
Hotels in Lima or other cities not on itinerary and meals not identified in the itinerary
Tips and extra spending or services not described in the itinerary
PERUVIAN GUIDES AND EQUIPMENT
This trip is fully supported by a Peruvian owned and operated company founded in 1978! For over 35 years they have explored, accomplished first descents and opened several Peruvian white water rivers to the world.
TRIP COORDINATOR
Lacey Anderson is a river guide with over 20 years' experience guiding the rivers of California, the USA desert southwest, Mexico, and Peru. She has rowed the Rio Marañón many times over the last five years. She is an ambassador and contributing author for NRS . A number of articles have been written about Lacey; check them out in Canoe & Kayak, American Whitewater, Paddling with Purpose, and NRS
Please Share With Your Friends