December 24, 2016
Welcome to the Jungle! More Creeking in Ecuador
Once again headed out with my amigos Diego and Jaime for another great day on the river. To be honest, I almost didn't go. I was feeling the after effects of consumption of a few glasses of Jugo de Diablo – a concoction made from lots of orange juice, lots of lime juice, canela, and at least a little rum-like cane liquor. I am so glad I went, this river is so beautiful and fun. Although the run is described as the "Lower Jondachi" in the Kayakers Guide to Ecuador, we ran the upper 7 miles and the locals call it the Middle Jondachi.
Nothing like a little action to get things going.
This is one of the jungle classics in Ecuador. The scenery is so beautiful with the lush green vegetation covering the canyon walls.
This drop by a little waterfall was sweet!
We did stop to scout a couple of times. This drop changes all the time according to Diego and Jaime, but it was clean enough today.
Between the big drops, you could appreciate your surroundings. The jungle here is relatively pristine and the water quality is good. What a beautiful place to boat.
Here is a typical rapid on the Rio Jondachi, albeit one of the easier ones.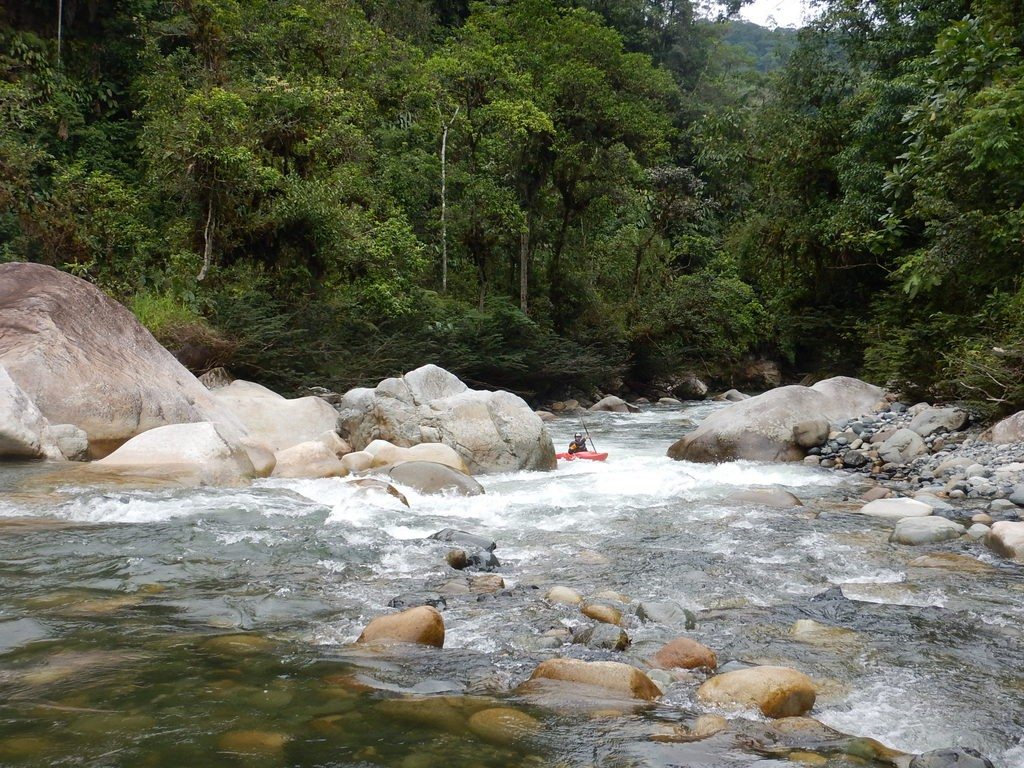 After scouting this rapid, Diego and I decided to portage. Jaime did run it and had a little back surf action in the upper hole. There was one more manky rapid that I elected to bypass using the "flintstone" method. Got stuck for a minute (narrow) but bounced on through!
Part of the reason Diego and I portaged.
Luckily, the lightweight "International Travel" cataraft package makes it easy to portage by yourself. It also doubles as a ladder when going over big rocks.
More beautiful jungle scenery along the Rio Jondachi.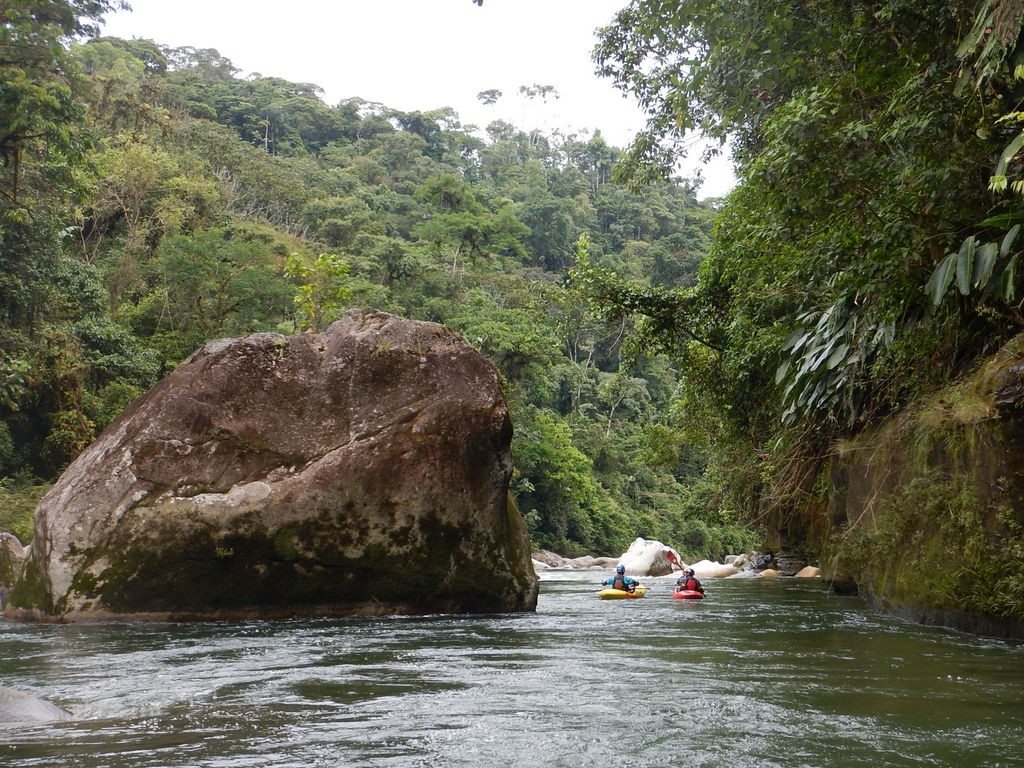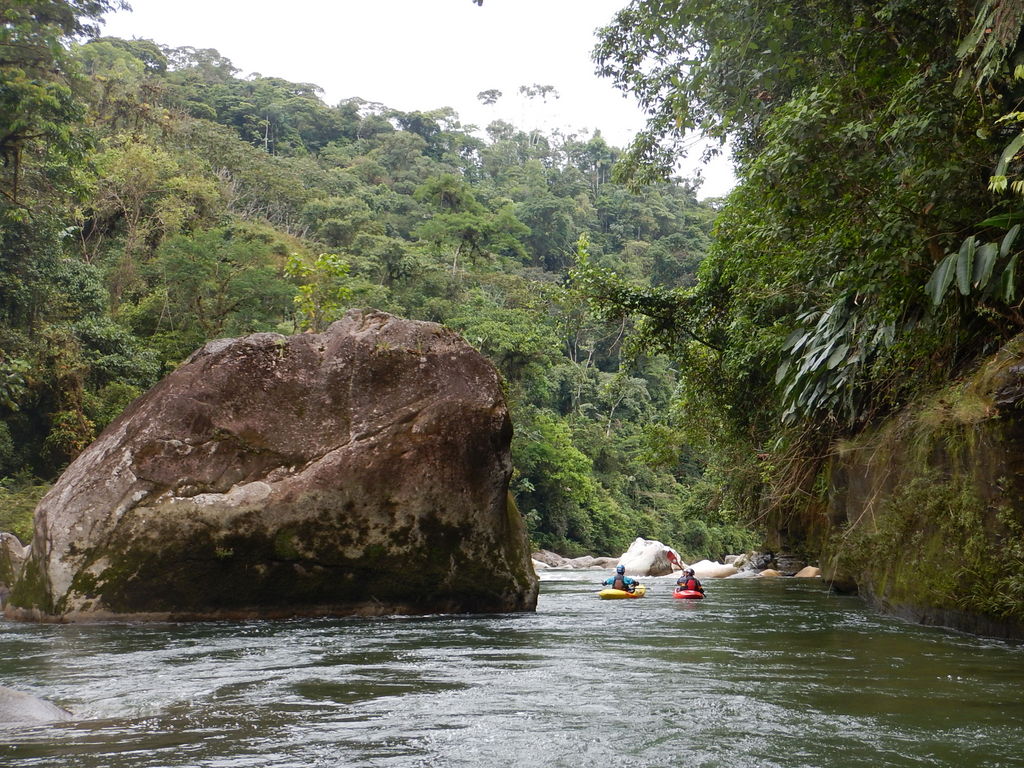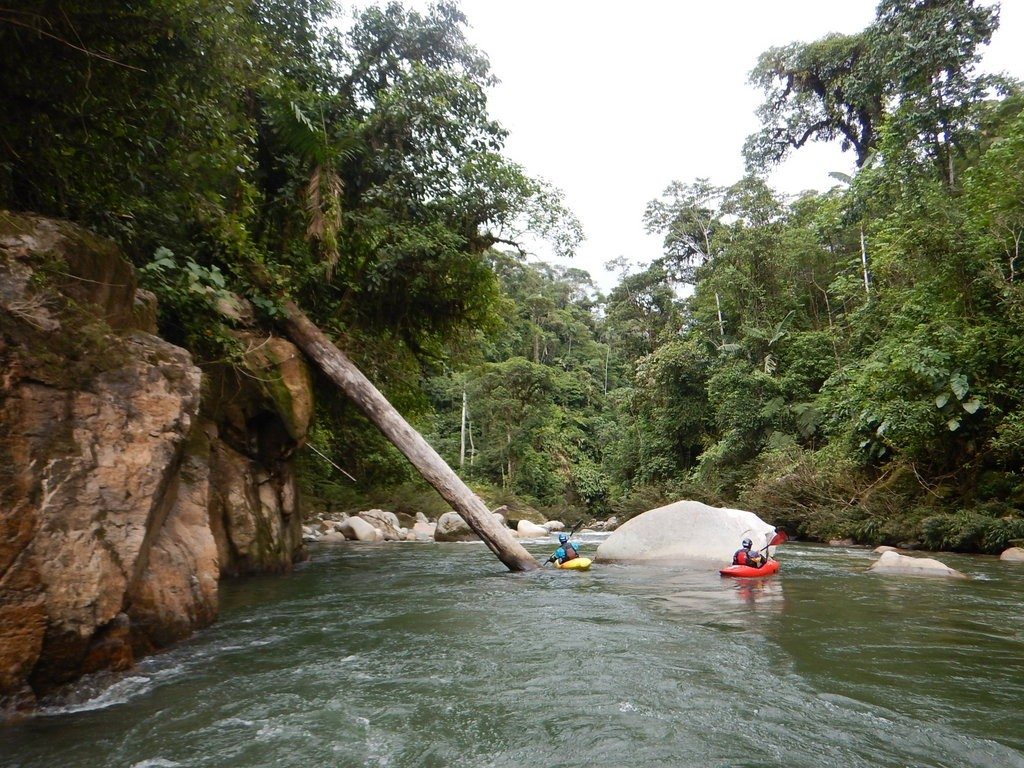 Another fun rapid as seen from below after a successful run by all.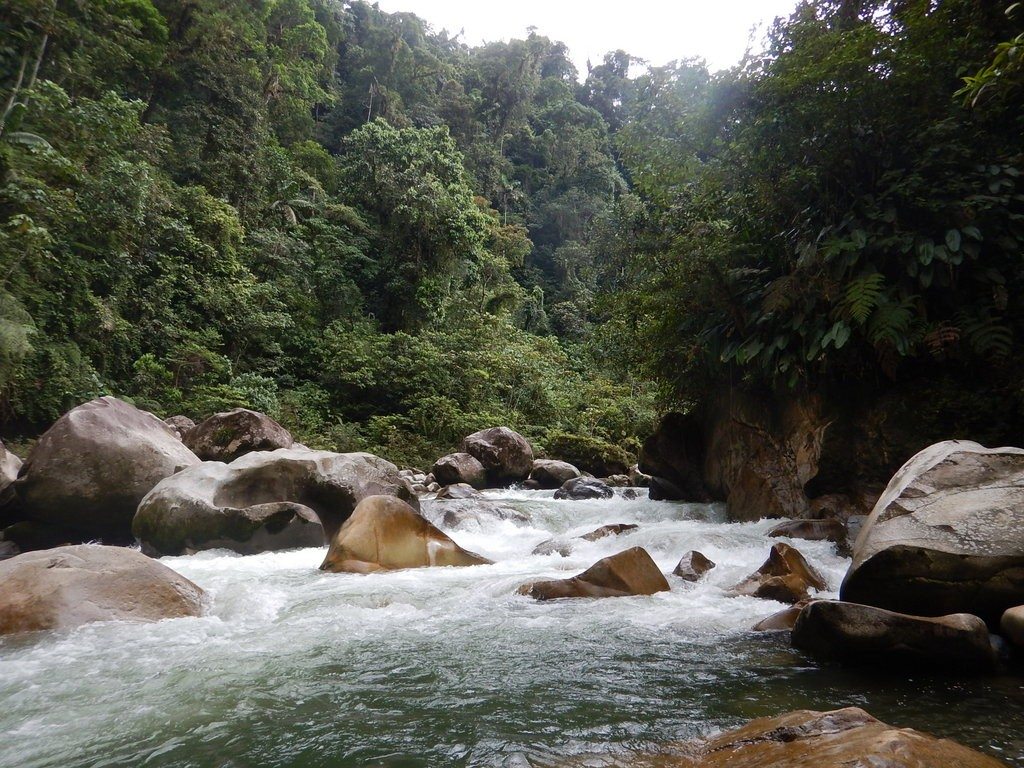 And then the rain began! It poured for like 10 minutes before letting up. There was sporadic rain showers down to the take-out.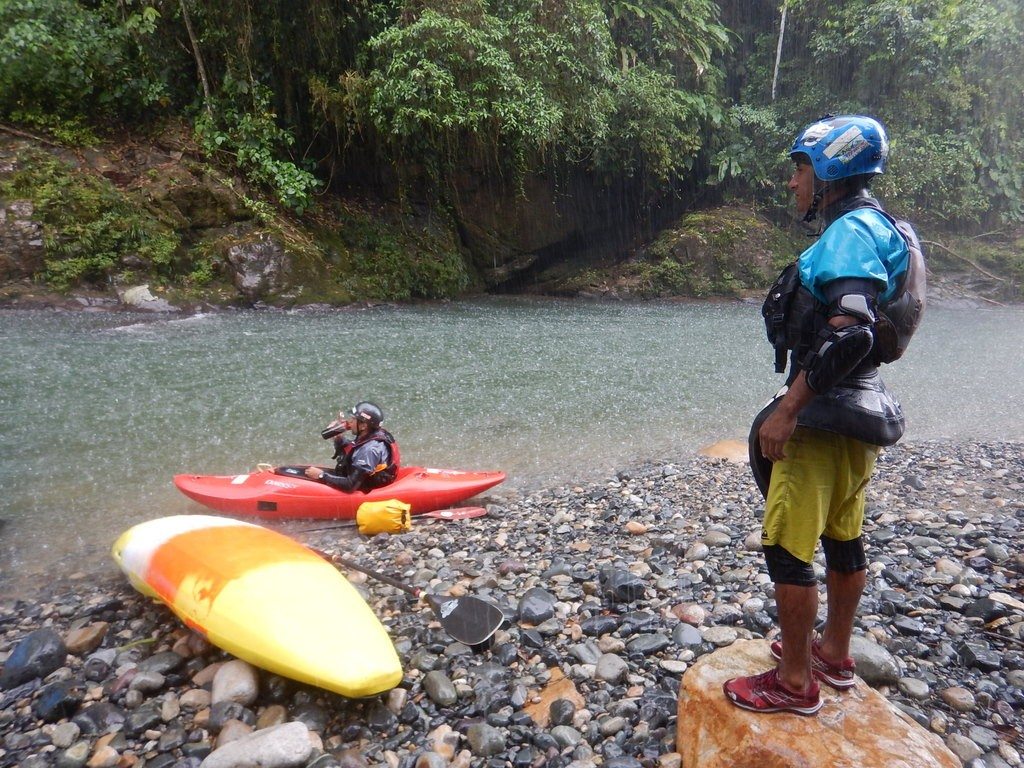 At one of the rapids, there was a relatively clean line on river left, but Jaime wanted to boof the right side. He made it look easy!
At the take-out we hired porters to carry the gear up a steep, muddy trail. It takes about 20 minutes to get to the top. Less if you are a Kichwa carrying 35+ pounds of gear! Loading up in the taxi, it was back to Tena and a hot shower in my room at the Zumag Sisa Hostel.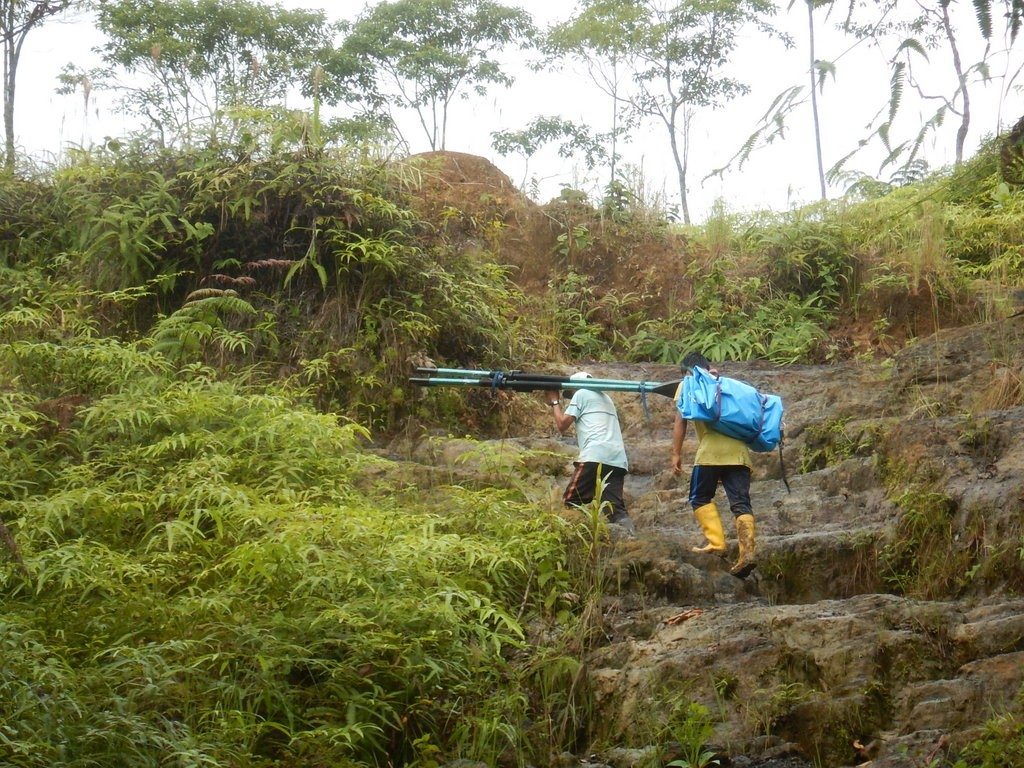 All in all one of the best days on the river I have ever had. The Rio Jondachi certainly is an Ecuadorian classic for good reason. If I didn't have the "International Travel" cataraft package, it would be much more difficult to undertake travel like this and still use an awesome cataraft. Contact me soon if you are interested in purchasing a set-up like this. As an incentive, I am offering a discount of $100 on the "International Travel" cataraft package with the discount coupon you can print out here.
Please Share With Your Friends