Rio Tehuantepec – Another First Descent
I say another first descent because I've been lucky enough to be involved in at least one other "first." One possible first was a trip in July 2002 down the Rio Urique  from the town of Urique to the town of Tubares in the Copper Canyon region of Chihuahua, Mexico. Lacey Anderson organized and led the first commercial descent of the Rio Urique. Several other people had run this section of river before 2002 in a variety of craft, but her trip was the first time that paying passengers had been guided down the river.
Another was the first descent down the Rio Mulatos in northern Sonora, Mexico by inflatable craft. Our friend Rocky Contos made the first known descent of this canyon and we joined him in 2010 for a wonderful trip down the Rio Mulatos/Aros/Yaqui. In  August of 2011, Rocky led the first known commercial descent of this river and Lacey and I served as guides (well, I was more of a guide trainee). Since that trip, Lacey has joined Rocky on several other first descents of rivers throughout Mexico that I have missed out on.
Luckily I was able to return to Mexico in October 2011 to join Lacey (and Rocky) on some additional rivers. They had researched the Rio Tehuantepec in the state of Oaxaca and it looked good for an initial run. Alfredo and Marcelo from Ecuador Adventure, Justin from Southern Explorations, and others they knew joined us for what was intended to be a 4 day trip with hopefully nothing over Class IV to deal with. When we got to the put-in, we realized the water was a bit low, but there looked to be enough to make it down successfully given what we had seen in the satellite images (Google Earth). There looked to be one spot where the river split around an island that would probably be the crux of the run. This would definitely prove to be the case.
The first day was a pleasant float through a broad valley where the river meandered peacefully and there really was nothing of concern except for weirs made of sticks, rock quarries, and the occasional tree (strainer) in the channel. We started to enter the canyon late in the day and the scenery was beautiful. We camped on a broad sand beach and enjoyed dinner, music, and wine. Everyone slept soundly and anticipation was high for what lay ahead in the canyon.
We had entered the canyon and now the river was confined between steep walls with occasional rapids formed by large boulders. Nothing over class III and we were all feeling good. Even with the low water, this first descent was looking pretty easy. As we entered yet another rock garden of massive boulders, we realized that the river was being split by a major island. This had to be what we had seen on the images. Lacey and I went through the first slot on the left and then had to pull out on the island to get a better look at what lay ahead. It was not pretty! There were several slots to negotiate, some of which dropped directly onto exposed boulders, none of which were really wide enough for the catarafts. The slots were followed by a somewhat tricky ferry where we would have to move left for the final drop of about 1.5 meters over mostly exposed rocks. The cats would have to be pulled through most of the rapid because it was too tight to be rowed. While everyone was scouting, Rocky ran through in a kayak.
Lacey ferried to the left above the entrance drop and pulled into a micro-eddy, where the boat could be unloaded and the gear portaged to below the last drop. It really wasn't too bad to get her little mini-Legend through the slots as it was just a few inches wider than the slots and very light.  Next up was my larger cat which is a few inches wider than Lacey's. I ran the slots while Rocky assisted with the rope and lifting. I was a bit apprehensive about running the last drop. My larger cat got stuck a bit at the top and slid partly sideways over the drop. A quick high side and everything was fine, whew! I tied off and went back up to help Rocky get his big cat through.
Rocky was still on the island and he asked if I would run his big cat through. Sure, why not! It had been unloaded of all the gear so was reasonably light, but wide. It took a bit more effort to get it through the slots and then I spun an oar-right above the last drop. OK, don't panic I told myself and just pulled the oar in a bit and made the strokes I needed to line up for the drop. This time I wasn't worried at all – until the big boat started to slip over the drop sideways too. Oh well, slip, bump, bang, and down into the eddy to watch the rest of the kayakers come through. Of course, they had no problems with the narrow slots.
Down below was another rapid that had us concerned, but a quick scout determined that this one should be clear enough for the cats and there weren't any big drops beyond a 2-3 foot ledge at the entrance. After loading the gear back on the cats, we took off. The rapid turned out to be a long boulder garden that was very fun to work through in the cats. Lacey and I love this kind of technical water. The big cat did get stuck a couple of times (briefly) but there were no problems. We continued down to just above the next town where we camped on a small beach below a papaya plantation.
As always, our arrival brought out the locals who had never seen boats on their river before. Those who could speak Spanish inquired about the river below and the answers ranged from bad to worse. The consensus was that the rapids were a lot like the rapids we had just done, but there was probably one place where the entire river went under a rock (¿abajo piedra? Si!). Maybe this first descent was about to get a lot tougher. Justin wasn't feeling well and the gang from Ecuador preferred some downtime on the beach to possibly carrying rafts and kayaks around unknown rapids, so they opted to hire a truck to get back to their vehicle, with plans to spend a couple days in Huatulco and maybe run the Rio Copalita. Lacey and I were game to continue with Rocky to see what was down there and complete the first descent of the Rio Tehuantepec. The locals fortified us in the morning by delivering several papayas for our journey downstream.
Well, I could tell you that what lay downstream was gnarly class IV, V, and VI and that we had to portage around the rock where the river disappeared, but that would be a lie. The truth is we spent the next couple days wondering where that rock was as we enjoyed an extremely beautiful canyon filled with mostly Class III to III+ rapids. We even hiked up one of the tributaries to some cool little waterfalls and pools. Oh yeah, there are some warm and hot springs along this stretch too! It seems unbelievable that no one has explored this river by boat before.
Because we weren't sure exactly where (or if) out truck would be at the bottom, Rocky paddled ahead and crossed the reservoir and hitched into town to find our shuttle driver. When Lacey and I floated down to where we thought the driver might be, there he was, and so was our truck! We loaded up the boats and found out via cell phone that Rocky was at the drivers house with the rest of the gear that had been unloaded out of the truck. All was well.
The Rio Tehuantepec is definitely a beautiful river that can be done by anybody with Class IV or better boating skills and the desire to boat off the beaten path in south-central Mexico. As first descents go, it couldn't have been nicer. Time for a second descent, join us in 2013 or 2014 if you can.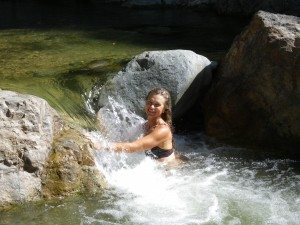 You can see more photos on Rocky's site.
Please Share With Your Friends